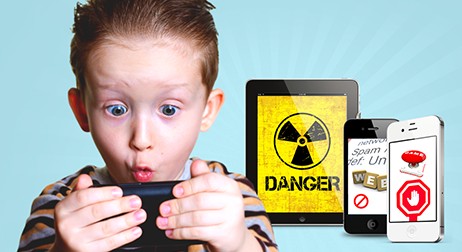 mSpy is a stealth parental control app which allows parents to monitor everything their children do while using their cell phone. This includes activities such as every text message sent or received, every dialed or received phone call, as well as photos and videos captured by the phone. Voted #1 among the best cell phone monitoring apps by BestPhoneSpy, this parental control allows parents to view actions by logging into the hidden interface on the phone itself, or they can log in to a secure web panel from any web browser to view recorded logs.
mSpy parental control falls into three different categories:
Usage Control: This parental control feature puts the parent in charge of a child's phone usage, regulating the number of calls and text messages. mSpy also records all text messages and information about each call. This gives parents more information about which numbers need to be blocked. So they can control and block certain numbers or restrict outgoing calls to a pre-approved list, and even disable the phone during certain times of day, like school hours or after 10 pm.
Location and Monitoring Control: These parental control features can be used to monitor a child's whereabouts through built-in GPS systems. Parents can also get immediate GPS locations by sending a silent SMS message to their child's phone, the monitored phone will not show anything on the screen. Parents will get a reply message stating the coordinates at that specific time, which can be very useful for parents to track when a child's phone moves out of a pre determined zone or range.
Content Alerts: mSpy allows parents to set keyword alerts for whatever keywords they suspect. The alert system automatically notifies parents if their child sends or receives specific keywords on their phone. This option allows parents to generate a list of words and phrases that trigger the alert. Parents can also receive an alert if their child tampers with the applications or tries to disable the it from his or her phone.
mSpy is a useful app for parents who need to monitor their children's phone use. This app enables parents to protect their children and to manage their phone use. It is easy to set up and use, and it provides complete control over what each phone user can see and do. Ensuring that children can use phones and the internet safely is of the utmost importance. Using the mSpy parental control software, it is possible to restrict children's access to the internet in order to prevent them from accessing websites or applications that are unsuitable for them. Parents can decide which websites and applications their children should have access to, and specify keywords that should be blocked.
The app also monitors phone usage and records details of the applications that have been used and the websites that have been visited, along with screenshots showing parents exactly what their children have been doing. Keystrokes can also be recorded for extra security.
mSpy can also be used to limit the length of time that a child spends on the phone. It can be used to schedule a specific time limit for each child, so that they can only use the phone at times when they have been given permission to do so, and to limit their phone use to a certain length of time per day or week. This can prevent children from spending too much time on the phone and ensure that siblings share the phone fairly.