Downloading and installing mSpy is a breeze and it might have taken about 5 to 10 minutes for the entire process to complete. However, you can't simply download the mSpy app (hidden version) from Google Play or the Apple App Store. Instead, you have to go to the mSpy Control Panel to download it.
Five things you need to know before installing mSpy
You need to have physical access to the target phone.
You need to disable all antivirus and firewalls on the target phone.
Make sure your target phone is compatible with mSpy.
If you want to monitor instant messaging, you can, but you'll need to root the phone.
To install mSpy, the target phone must be connected to the internet via Wi-Fi or cellular data.
To get started, visit https://www.mspy.com in your browser and log in with your account information. Once you're logged in, the website will redirect you to the mSpy Setup Wizard page. Next, select the device you want to install the software on and follow the on-screen instructions to finish the installation.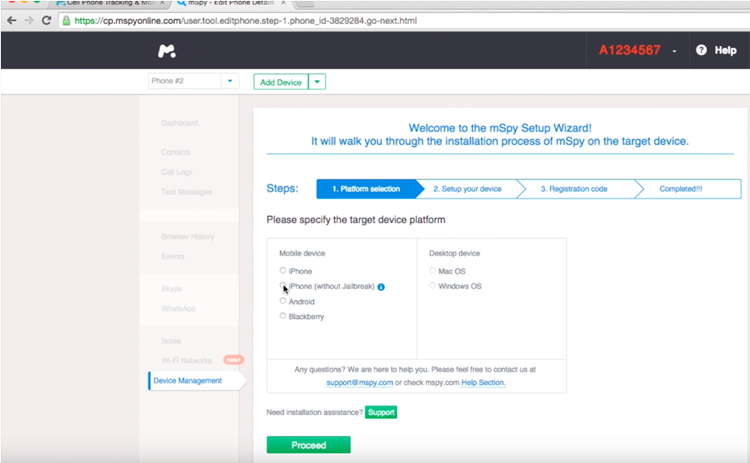 How to install mSpy on an Android phone
Watch the video below to see how to install mSpy on an Android smartphone. Installation is easy and takes less than three minutes.
How to Install mSpy on a jailbroken iPhone
To download mSpy on an iPhone, you will need to jailbreak it first. If you can't jailbreak the phone, try using the mSpy Without Jailbreak Solution.
How to Use mSpy no-Jailbreak Solution
To use this solution, you will need to know the iCloud credentials (Apple ID and password) of the monitored iPhone.
Once the installation is complete and the phone is back in the hands of the target, they will have no way of knowing that their phone is being tracked. Information such as text messages, call logs, GPS location is all sent to your web account – it all happens in the background without the user's knowledge.
Can I install mSpy remotely into the target device?
A lot of people ask me, "Is there a way that I can install this software onto a phone remotely?" Unfortunately this cannot be done. mSpy has to be installed directly onto the phone. Once it has been installed, it is totally invisible. There are software vendors that make claims that you can install the software remotely but more than often it does not work as well as they say it does.
Last updated January 10, 2019.