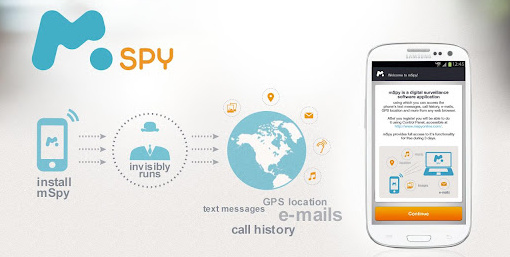 mSpy Overview
mSpy is a monitoring application for cell phones that is downloaded via the phone's browser, and installed directly on a compatible smartphone or tablet. Once installed, mSpy becomes undetectable and immediately begins to record activity, and then uploads all the data to an online account. The person, who installed the app, can now log into their account via any Internet connected device that has a web browser, and view all activity recorded, 24 hours a day, 365 days a year.
mSpy software is an advanced way to monitor smart phones and computers. There are a variety of features that makes it standout among its competitors. It is easy to set up and works on jailbroken & non-jailbroken iOS devices and Android devices. Now also available for Windows and Mac. The installation only takes a few minutes, and monitoring is done secretively so your children or employees will never know that you are spying on them.
mSpy Features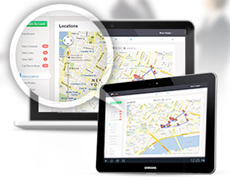 Cell phone spy software has come a long ways over the last few years. In the past, the only thing cell phone spyware did, was allow someone to read text messages by forwarding the text messages to another number. However, the technology has now improved to offer users many different monitoring options. Let's take a look at what mSpy can do:
1. Location tracking via GPS – mSpy displays the location of the tracked phone on Google Maps at all time. If you know Google Maps, you know just how accurate it is.
2. Read text messages – mSpy records the content of all incoming or outgoing text messages on the cell phone. You will also be able to see the number of the phone that sent the text message as well as the hour the text message was sent. If the number has been assigned a name, you can see it as well.
3. Call history – This function allows you to receive a chronological log of all incoming and outgoing calls. You will see how many calls it received or made, the numbers that were contacted, the time the calls took place and how long the calls lasted. If the calls were made to or from a number that is registered on the phone's memory and the number has been assigned a name, you can see the name as well.
4. Phone call recording (This feature is no longer available) – Remotely record calls made from or received from your target phone. Listen to the recording either directly from your control panel or download them to your PC.
5. Incoming calls restriction – Restrict incoming calls from any predefined number on your target phone.
6. Read emails – With this feature, you can read both incoming and outgoing emails. Gmail for Android & iOS, and Mail App for iOS.
7. View photos & videos – This is one of my favorite features of mSpy. This feature allows you to secretly retrieve and view all the photos and videos that are on your target's phone.
8. Monitor Internet activities – This feature allows you to find out which websites they are visiting by providing you with all the URLs of every website they visit.
9. Read chats and instant messages – Monitor some of the most popular communication apps, such as: iMessage, Facebook Messenger, Viber, Skype, LINE, Instagram, Snapchat & WhatsApp.
10. Record surroundings (This feature is no longer available) – This is one feature that has everyone excited. What this does is allow you to secretly listen to the surroundings of the phone you are monitoring. No more wondering what the other person is doing, with this feature, you can secretly listen and find out for yourself.
11. Access calendar and address book – See all the numbers that have been recorded on the phone's memory, complete with all the names assigned to them.
12. Keylogger – Capturing text typed in any application, website visited, email correspondence and chats on the target device. Using this feature, it is possible to collect login details, search phrases, messages, and other data that will clarify what your target is up to. The keylogging feature is only available for Android devices.
13. Apps & Websites Blocking – You can now have full control over the applications installed on a monitored phone with this feature. Choose to allow or block any application you deem harmful to your kids or business
14. Unlimited Device Change – You can install the mspy app upon one device at a time but you can change the target device as often as you want without buying new licenses.
15. 100% invisible and undetectable – The best thing about using mspy is that it does its job very stealthily and will not let anyone know that it has been installed on the phone. There will not be any icons to show people that mSpy app has been installed on the device.
Features Comparison
| | | | |
| --- | --- | --- | --- |
| FEATURES | mSpy Basic | mSpy Premium | mSpy without Jailbreak |
| Automatic Software Updates | | | |
| Text Messages, MMS | | | |
| Call history & Contact List | | | |
| Emails | | | |
| iMessages | | | |
| Browsing History | | | |
| Calendar, Notes, Tasks | | | |
| Unlimited Device Change | | | |
| SIM Change Notification | | | |
| GPS Location | | | |
| Geo-Fencing | | | |
| Keylogger | | | |
| Wi-Fi Networks | | | |
| Apps & Websites Blocking | | | |
| Incoming Call Blocking | | | |
| Remote Device Lock or Wipe | | | |
| Snapchat | | | |
| Instant Messages | | | |
System Requirements for mSpy
The system requirements for running mSpy on different mobile and desktop operating systems are described below, please click below to learn more about the system requirements for your specific OS.
IMPORTANT: Make sure the app is compatible with your device before buying.

Install and Set Up
The mobile device will need to physically be in your hand to install the mspy monitoring software. This is the only time you will need the device. Monitoring will be done remotely, and users will never be able to know you are spying on them because the software is not traceable.
From your computer, open the confirmation email, and click on the link that is provided. This will take you to the mSpy control panel. Log into the control panel and follow the step through instructions.
Once installation is completed, the software will start monitoring the device immediately. All user activity can be viewed by logging into the mSpy control panel.
mSpy Video
If you want to see mspy in action, then check out this quick video. A lot of people have heard about mSpy cell phone monitoring software, but few have actually seen how it works. This video gives an excellent overview of what mSpy is, and what it can do.
As you can see, mSpy is an advanced monitoring system that is packed with features to help employers and parents ensure safety for those who need it. The world is filled with temptations, and wrong choices are easy to make. This software helps protect users from suffering long term consequences because of poor choices they are tempted to make. Getting the security you need for your loved ones is priceless, and this software provides the highest mobile monitoring available.
It has never been so easy for parents and employers to get the answers they need about suspicious behavior. Not only does this software help provide answers, it also gives the account user the concrete evidence they need to enforce punishments.
5 Things You Should Know Before Buying mSpy
1. How do I get the software?
The software is a digital product, and will be delivered to you electronically. When your purchase is complete an email containing download instructions will be delivered to your Inbox. The email will have a link that you will need to type into the monitored phone's web browser. The link is also available in your control panel. Basically, you go to the link, download, and install the app.
2. How can I make payments?
Payment methods include: Visa/Mastercard, Bank/Wire Transfer, American Express, Discover/Novus, Diners Club, PayPal, Fax, and JCB.
3. Do I need physical access to the phone to install mSpy?
Yes, you need physical access to the phone that you want to track. This is because you need to go through that cell phone's browser for downloading the installer file. You don't need physical access to the phone for long as it only takes around 10 minutes to complete the installation.
4. Will there be any evidence of the software on the phone bill?
No. The only thing that will be included on the phone bill will be total data used, but the total will be included in the overall calculation. The software name will not appear anywhere on the phone bill.
5. What kind of technical support is there?
Technical support is available 24 hours a day online, or through the toll-free hotline. Getting the answers to your questions is so easy. Customer service representatives are prepared to help you with anything from technical issues to purchasing. This software is easy to use, easy to install, and provides comfort to worried parents and employers.
mSpy Coupon Code / Where to Buy
The software can be brought through the main mSpy website. There are two editions available, Basic or Premium. You will need to provide a valid email address so installation instructions can be sent to you.
To make this even more fun, mSpy is offering an exclusive coupon code for my readers. Please visit mspy coupon code page for more information.
mSpy Review – Conclusion

mSpy is definitely the best stealth mobile phone spy software out there today. It is one of the most technologically advanced cell phone monitoring apps money can buy. If you need to get your hands on all the latest features (such as monitoring Skype, WhatsApp & iMessage, spy on calls, and more) look no further than mSpy. They are considered one of the leaders in the overall cell phone spy industry, and are one of the few companies that offer live customer support. Prices start at a reasonable $30 and go up to $200. Also, don't forget to get your mSpy discount code to save some money.