Most of the time people buy cell phone spying software so that they can monitor the activities on their child's smartphone or the company-bought smartphones that they give to their employees. However, there is another valuable reason to have this powerful app and that is on your own smartphone—especially if you use your smartphone for business.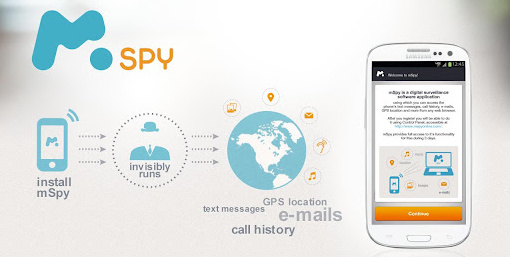 Here are the top 6 reasons why mSpy is so popular:
1. To Protect from Loss or Theft
Everyone's worst nightmare is losing their cell phone or having it stolen. Not only is it costly to lose a device such as an iPhone or Samsung Android device but the information on it is gone. Just losing the contacts files is enough to make a person cringe in terror.
With the mSpy cell phone spying product, there is some hope for a lost or stolen smartphone. To begin with, all of the information and especially the contacts file on the monitored phone have already been captured in your subscriber control panel area.
Plus, you have additional tools to try and locate your cell phone that has gone missing. You can try to locate the phone through its GPS tracking and reporting capability from your subscriber control panel. It could be as simple as locating it in your house but if it is stolen you can see where it goes. Even if the thief changes the SIM card, the app will still continue to report location because it runs resident in the phone's memory.
In the case of loss, you might try calling your number and hope the person on the other end answers but if he doesn't, you can lock the phone and wipe its data contents clean so that there is no compromise of the information stored on the device. These two features are provided to you and accessible from the mSpy control panel.
2. To Filter Calls
It depends on your communications carrier but there are times when calls are received that you would rather not have. Telemarketers are the first that probably come to mind. Telemarketers are targeting cell phones more than ever because many have opted to not purchase a land line for their homes these days
Of course you can have your number placed on Federal Trade Commission's Do Not Call List or you can just take care of the matter yourself. The mSpy cell phone spying package allows you to define numbers to restrict receiving calls from them. This allows you to quickly handle the problem and gives you the flexibility to remove the number easily from the restricted call list if you need to.
3. Backing Up Information
The mSpy software is not only about keeping track of a smartphone user's activities. It is also about managing the logged information and having a backup of it. If you are using your cell phone for business, the information on it is extremely important and it could be lost even due to unintentional deletion. Or, what if for some reason you must set the phone back to its factory configuration?
Thus, with the mSpy app, you can retain the logged information in the subscriber control panel area which is one form of backup. Furthermore, you can export the logged data into XLS, PDF, or CSV files which serves as another form of backup.
4. Recording Conversations
With mSpy, no longer do you need to take separate recording equipment to those important business meetings where you need to document what was discussed.
When cell phone spying, it's called bugging but when using the software for business use on your own phone, it is a handy tool to capture everything discussed.
5. Document Everything
If you use the mSpy cell phone spying software for personal use, you'll have a record of all of the important SMS, email, and other text conversations stored right in your secure subscriber control panel area.
As mentioned previously, you can also download logged data into XLS, CSV, and PDF format and import the information into Microsoft Office to keep in document form. For business, it is a great way to extend the use of your smartphone to keep all information organized.
6. Keep Your Phone Clear
A common problem with cell phones is that users tend to accumulate photos and videos to the point where there is no more storage memory remaining on the device and it starts to perform sluggishly.
With mSpy cell phone spying software, you no longer need to remember to offload those photos and videos because you'll have them in your subscriber control panel area available for download.
As you can see, it is not only about cell phone spying when it comes to having the mSpy app running on a smartphone—your smartphone. If you use your smartphone for business, you can make the device not only an incredible help but protect it as well. If you have an Android, iOS (Apple), BlackBerry, or Symbian phone then you need to protect it and get the most out of it with mSpy.